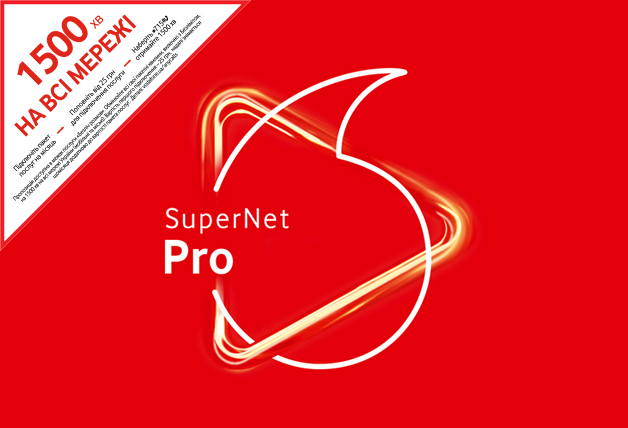 Vodafone SuperNet Pro
Plan main features
10GB

4G/3G Internet

Online PASS

Video PASS

Insta PASS

(for 3 month): *310*1#

Unlimited

network calls

120 min

within Ukraine or to Poland (T-Mobile)

30 min

calls abroad

«Unlimited calls abroad»

for 3 UAH/day
This bundle costs 125 UAH/months
Close tooltip

Estimated cost of the tariff per day. Calculation method
4,2 UAH/day
Close tooltip If there is not enough money in the account to pay the monthly cost of service packages, the daily packages of services will be automatically activated regardless of their use. Find out more here Additional information about daily tariffs
Change tariff
Buy in shop
The cost of service bundle for month
125 UAH
The cost of services over the bundle
4G/3G Internet
10 GB
7 UAH for every 200 MB
Online PASS:
Facebook, Twitter, LinkedIn, Pinterest, messaging (text and picture messages) in Viber, WhatsApp, Skype, Telegram and SnapChat
Unlimited
--
Video PASS : YouTube, Netflix, MEGOGO
Unlimited
--
Insta PASS – Instagram for 3 months
Unlimited
*310*1#
--
Calls within Vodafone Ukraine network
Unlimited
--
Calls to other Ukraine and Poland (T-Mobile) networks
120 min
0,60 UAH/min
Calls to foreign destinations
30 min
10 min
for 5 UAH/day
(within 10 packs per day)
«Unlimited calls abroad» for 3 months
Special terms for calls to Poland and Russia
Unlimited calls to three numbers
for 3 UAH/day
--
SMS to all Ukrainian mobile networks and to foreign destinations (to 62 world's countries)
50 units
for 1,50 UAH/day
0,50 UAH/units
SMS to other countries
(except 62 world's countries)
--
0,50 UAH/units
List of 62 world's countries:
Over-bundle mobile Internet – 7 UAH for every 200 MB (within 20 packs per day).
SMS to fixed numbers in Ukraine – 6.38 UAH/unit
Gigabytes of Internet within the tariff are available for use in 2G, 3G and 4G-networks if there is technical access and coverage.
Special offer for Vodafone SuperNet Pro:
If you have activated starter pack (make the first call) from 01.05.2019 till 01.09.2019, the cost of service pack from 01.08.2019 will be 110 UAH/month for the next 3 months.
If you have purchased a starter package for UAH 90 marked "First month included", a special offer is not available to you, regardless of the date of the first call in the tariff.
Useful Information
If your service packadge for month is ended, you can connect it personally.
To activate services package for month correctly, you must complete all previously started Internet sessions or switch your mobile phone off and on.
The date of the next charge and upgrade of services package depends on the package activation date.
Choose a service to your taste!
"Exchange of minutes"

This service offers

within Ukraine in addition

This service will cost

no extra charge

Details

Monthly service pack should be activated in your tariff
Minutes for calls abroad (to 62 countries) were not used, and their number was 30 minutes.
The remaining minutes for calls in Ukraine and Poland (T-Mobile) for at least 60 minutes.

Recommended Recommended

"Many talks"

This service offers

within Ukraine in addition

This service costs

25 UAH/month

Details

You should have activated monthly service package in Vodafone tariff.
Minutes abroad were not used, and their number should be exactly 30 minutes.

"Year without fees"

This service offers

free communication

This service costs

1375 UAH/12 months

Details

12 months of free communication within Ukraine
Service pack update every month.
The scope of the package of services remains unchanged for 12 months
Compare with other tariffs