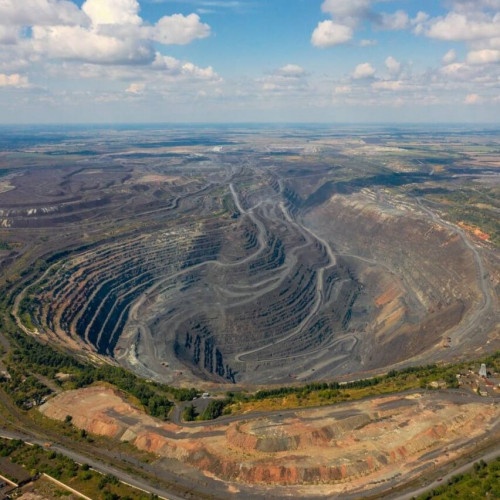 Vodafone and Ferrexpo are building a "Smart Quarry" at Poltava Mining
Vodafone Ukraine and the Ferrexpo Group have launched an innovative project to build a "Smart Quarry" at the Ferrexpo Group's quarries in Ukraine. Within the project, Private Networks e-LTE was constructed at the Ferrexpo Group's quarries, enabling production automation solutions that will reduce operating costs, ensure safe mining and the absence of personnel in hazardous areas.
In particular, the company launched the largest mill for iron ore grinding in Ukraine – one of the largest mills of this type in the world. For the first time in the country's history, a production line of this type and capacity was launched and configured using remote control. Under strict quarantine, the contractor's specialists, the Swedish-Swiss company ABB, could not connect and configure the equipment directly at the plant. Therefore, using the LTE Vodafone network, specialists in Ukraine set up the equipment under the remote guidance of colleagues from Switzerland using special mobile terminals.
Private Networks e-LTE Vodafone has also covered the Poltava and Yeristovo quarries of the Ferrexpo group, where unmanned drilling units operate. Each has six cameras that allow you to remotely control the work from the Central Dispatch Centre of the Yeristovo Mining (Ferrexpo Yeristovo Mining, FYM, part of Ferrexpo).
Europe's first Private e-LTE network at a frequency of 5.7 GHz is built on 19 base stations. Ferrexpo, as a regional telecom operator, has received licenses to own 5.7 GHz frequencies.
«Vodafone is a technological leader globally, and its Ukrainian division is actively working to introduce best practices in our country. Today, our task is to begin to form an ecosystem of solutions for industry based on Private Networks and to make mainstream industrial solutions that contribute to the competitiveness of individual enterprises, companies, and the economy as a whole. It is essential that there are companies in Ukraine, such as Ferrexpo, that drive innovation and partnership, which allows to realise the potential of Private Networks for the industrial sector. Our site at Poltava Mining will become a centre that will combine business and advanced technologies, experience and expertise of specialists from different countries», Andriy Fedorov, Head of Business Market Department at Vodafone Ukraine, says.
«In today's world, it is impossible to be a leader without innovation, particularly the one based on Private Networks. We supply our products to the world's best steel producers; you will find our pellets in various products: from German cars to Korean phones. Investments in production, constant development, and modern technologies are key to competitiveness in the world market. Another fundamental principle of Ferrexpo is to provide comfortable and safe working conditions for our employees. Together with Vodafone, we have implemented the first stage of this process and will keep on», Ferrexpo said.