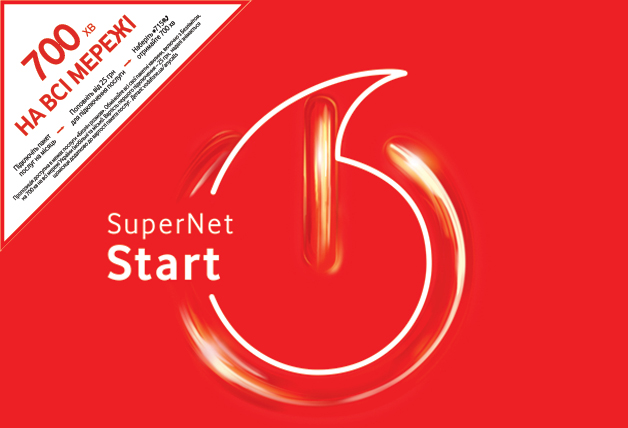 Vodafone SuperNet Start 2019
Plan main features
4 GB + 2 GB/3 months

4G/3G іnternet

Online PASS

«YouTube Uninterrupted»

promo offer *313#

Unlimited

intranet calls

80 min

within Ukraine

30 min

in Poland, Germany, Italy and 27 other countries
This bundle costs 110 UAH/month
Close tooltip Estimated cost of the tariff per day. Calculation method 3,7 UAH/day
From 11.06.2020 Vodafone SuperNet Start 2019 tariff will be not available for new activations. Details
Cost of service packages for a month
110 UAH
4G/3G internet

Close tooltip

Gigabytes of internet within the tariff are available for use in 2G, 3G and 4G-networks if there is technical access and coverage
4 GB +

Close tooltip

An additional 2 GB is available for new subscribers who have purchased and activated the tariff, starting from 22.03.2019 year 2 GB/3 month
Online PASS:
Соцсети Facebook, Twitter, LinkedIn, Pinterest, сообщения в Viber, WhatsApp, Skype, Telegram и SnapChat (text and pictures)
Unlimited
«YouTube Uninterrupted» promo offer
YouTube Premium
4 MONTH FOR FREE
+ Video PASS service
*313#
Calls within Vodafone Ukraine network
Unlimited
Calls to other networks
80 min
Calls abroad to Poland, Germany, Italy and 27 more countries
30 min
SMS to all mobile networks in Ukraine
50 units for 1,50 UAH/on the day of use
SMS abroad
2 UAH/units
For the attention to subscribers who activate the starter pack (make the first call) in the SuperNet Start 2019 tariff plan from 05.06 to 05.07.2020. During the first 3 months, the cost of the tariff will be 90 UAH, starting from the 4th month, the standard cost will apply.
To check the account status *101#
To check the tariff packs in Ukraine *101*4#
SMS to fixed numbers in Ukraine – 6,38 UAH/unit.
If your monthly service package is ended, you can connect it personally:
Pleas, reload your phone.
If you used the service package earlier than a month
«Minutes Exchange» and «Many talks» services
If the tariff for month is not paid, conditions apply:
List of 30 countries for calls abroad
List of 48 countries for calls abroad
Мandatory legal information