Tariff closed to new connections. Select current page with
rates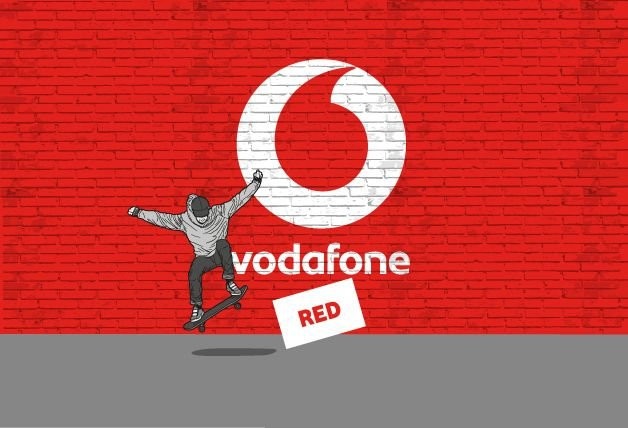 Vodafone
RED EXTRA XS
4 GB internet
«Music Non Stop» promo, *313#
Unlimited in the network Vodafone Ukraine
30 SMS
115 UAH/4 weeks
Cost of service packages per 4 weeks
115 UAH
Calls within Vodafone Ukraine network
Unlimited
Internet
4 GB
«Music Non Stop» promotion
YouTube Premium
3 MONTH FOR FREE
+ Video PASS service


*313#

Calls to all Ukrainian networks
60 min
Calls abroad to 48 countries
10 min for 10 UAH/day After using 10 packages are available per day cost of calls is 3 UAH/min
(within 10 packs per day)
to check

*101*5#
SMS to all Ukrainian mobile networks
30 units
SMS abroad
2 UAH/unit
To check the rest of the package (minutes, internet), dial *101*4# or in My Vodafone app
If your 4 week service package is ended, you can connect it personally:
To activate services package for 4 weeks correctly, you must complete all previously started internet sessions or switch your mobile phone off and on.
If you used the service package earlier than 4 weeks
Direction
Cost
Internet
еvery 100 MB/day for 7 UAH (20 packages per day)
Calls to other Ukrainian networks
0,60 UAH/min
Calls abroad to 48 countries
10 min for 10 UAH/day After using 10 packages are available per day cost of calls is 3 UAH/min
(within 10 packs per day)
to check *101*5#
Year without fees
Feel the freedom of communication with «Year without fees» service. Pay 1265 UAH in advance and get the opportunity to take advantage of the whole year:
Free communication in Ukraine for 12 months.
Service pack update every 4 weeks.
The volume of the service package without changes for 12 months.
The validity period is 12 months.
Terms of use of daily services:
Activation is available only in case of money availability on the main account. Money from additional account can't be used to pay for this service. In case tariff for month is not paid, then after «Year without fees» activation service pack for month would be activated after 00:00
When you migrate to another Vodafone Ukraine Prepaid tariff with the activated service «Year without fees», the current service will be disabled.
Please note that when you activate the «Year without fees» service and activate the service pack (*101*444), your account will be charged for the service pack. The next package update will take place exactly one month later.
When «Year without fee» service comes to the end, you can activate it again. Please check its description before, since its terms may be changed in comparison to your previous ones. To activate, wait for SMS about current service deactivation, reload your phone and dial *365*1#

in case of sufficient amount on account.
If the tariff for 4 weeks is not paid, conditions apply:
Regardless of use, you pay 10 UAH/daily and have unlimited calls to the Vodafone Ukraine network.
Daily tariff
In case of use
Internet
еvery 100 MB/day for 7 UAH By the end of the day, there will be 20 packs of 100 MB with maximum speed, and next the speed will be – 150 Kbit/sec
Calls to other Ukrainian networks
0,60 UAH/min
Calls abroad to 48 countries
10 min for 10 UAH/day After using 10 packages are available per day cost of calls is 3 UAH/min
(within 10 packs per day)
to check *101*5#
SMS to all Ukrainian mobile networks
50 units per 1,50 UAH/day
Terms of use of daily services:
The service package per 4 weeks fee is charged automatically. It happens after one 4 weeks from the date when the package was connected (from 00:00 to 8:00).
For example, if the service package was connected on the 25th, the payment will be withdrawn on the 23th of the following month. As soon as the service package is charged, you will receive an SMS (after 8:00).
Important information: until you receive an SMS about service package activation, you will have a daily rate, ie calls, SMS and the internet will be paid.
If on an account does not enough money to pay the 4 weeks fee for the service package, then there is an automatically will be available daily rates with obligatory payment.
In the future, every day from 00:00 to 8:00, the system will check the status of your account and, as soon as there is a sufficient amount, will connect a service package per 4 weeks.
Important information:: the date of the next package payment will be connected to new date when the service package per 4 weeks was activated. To check, dial *101*4#
List of 48 countries for calls abroad
Minutes are available for mobile and fix numbers:
Australia (+61)
Bangladesh (+880)
Belgium (+32)
Bermuda (+1441)
Canada (+1)
Chile (+56)
China (+86)
Colombia (+57)
Cyprus (+357)
Czech Republic (+420)
Denmark (+45)
France (+33)
Germany (+49)
Great Britain (England, Scotland, Wales, Northern Ireland) (+44)
Greece (+30)
Guadeloupe (+590)
Hong Kong (+852)
Hungary (+36)
Iceland (+354)
India (+91)
Indonesia (+62)
Ireland (+353)
Israel (+972)
Italy (+39, only to fixed numbers and mobile Wind Italy)
Japan (+81)
Kuwait (+965)
Malaysia (+60)
Malta (+356)
Mexico (+52)
Mongolia (+976)
Namibia (+264)
Netherlands (+31)
New Zealand (+64)
Norway (+47)
Pakistan (+92)
Peru (+51)
Poland (+48)
Portugal (+351)
Puerto Rico (+1)
Romania (+40)
Russia (+7, only to fixed numbers and MTS Russia)
Singapore (+65)
Slovakia (+421)
South Korea (+82)
Spain (+34)
Sweden (+46)
USA (+1)
Vatican (+379)
Roaming
Basic conditions of roaming are applied in your tariff. Information about cost of calls, internet, SMS and profitable services you may discover on roaming page
Mandatory legal information
4,1 UAH/day – the estimated value per day at the Vodafone RED EXTRA XS tariff, determined by dividing the cost of the package of services by 115 UAH for 28 days (four weeks).
Customers of Vodafone Prepaid tariffs who activated 4 weeks packed services can use app «Дія» unlimitedly from 02.21.2020.
Gigabytes of internet within the tariff are available for use in 2G, 3G and 4G-networks if there is technical access and coverage.
Tariffs apply on the territory of Ukraine in the presence of coverage of the operator network, except for the territory, for which the state authorities temporarily do not exercise their powers or carry them out in full.
The price of calls is stated for the first second of every minute of call, including each successive second of specified minute within conversation. Call rates are charged per first second of each minute.
Tariffs are stated in UAH including VAT and Pension fund tax in amount of 7.5% of service cost without VAT as of 05.01.2021.
Minimum validity of tariff is 30 days starting from its subscription.
For the detailed information on tariffs, promotions, prices and terms of service please call:
111 — free for Vodafone Ukraine in Ukraine;
0800 400 111 — for the subscribers of other Ukrainian networks (free from any number in Ukraine).
PJSC «VF Ukraine», 01601, Kyiv, Leiptsyzka Street, 15, №1 in the Registry of telecom operators and providers.