Tariff closed to new connections. Select current page with
rates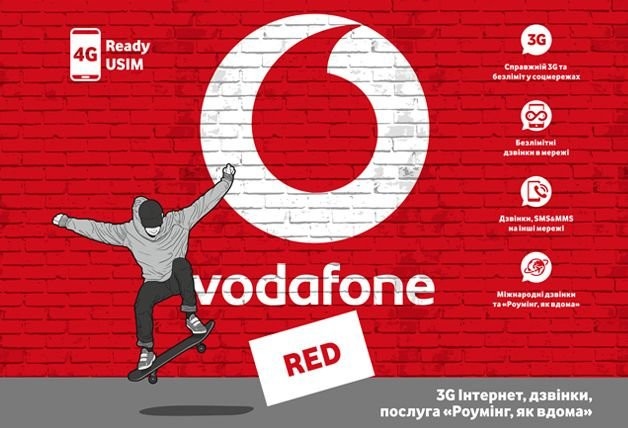 Vodafone
RED L 2015
5 GB internet
Unlimited

social networks
90 min

in

Ukraine
90 SMS
120 UAH/month
Vodafone Red S, M, L 2015 tariffs are not available for new subscriptions.
Cost of service packages per month
120 UAH

Calls within Vodafone Ukraine
Unlimited
Internet
5 GB
Social networks Facebook, Twitter, Instagram;
messages in Viber, WhatsApp (text and pictures)
Unlimited
Calls within other networks in Ukraine
and abroad
90 min
SMS to all mobile networks in Ukraine
and abroad
90 units
To check the rest of the package (minutes, internet), dial *101*4# or in My Vodafone app
To activate services package for month correctly, you must complete all previously started internet sessions or switch your mobile phone off and on.
Cost of services over the package per month:
internet – 15 UAH for every 500 MB (within 10 packages);
calls to other networks of Ukraine – 0,50 UAH/min;
SMS on all mobile networks of Ukraine and abroad – 0,50 UAH/unit;
calls

abroad – 10 min for 5 UAH (within 10 packages by the end of the day).