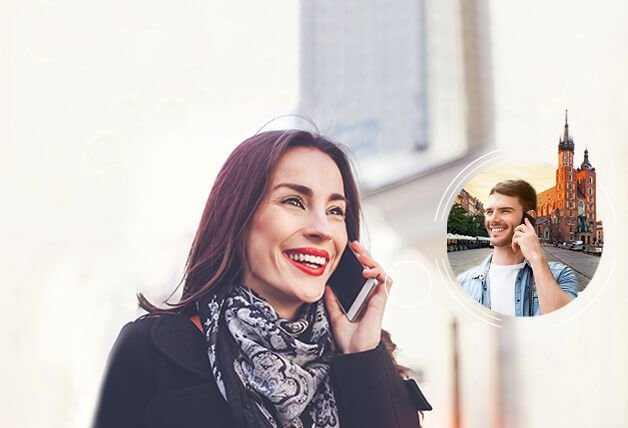 Unlimited abroad
Unlimited calls abroad for 3 numbers
Free communication with subscribers of Poland (T-Mobile/Heyah)
50 UAH/every 30 days
Activate service
My Vodafone
Unlimited calls abroad came true!
To order one of service for free calls to 3 subscriber numbers subscribers of Poland (T-Mobile/Heyah).
Terms of use:
The cost of the service is charged during its connection and is UAH 50, then the withdrawal takes place every 1st day, in the period from 00:00 to 08:00 automatically, about which you will receive an SMS after 08:00.
If there are not enough funds in the account, they will act basic conditions tariff for calls abroad.
Service is available in Vodafone Ukraine Postpaid.
To subscribe «Unlim Abroad» service You need to turn off «Poland for the day» service.


Manage a list of three numbers:
1. How to add a number?
Entering the first three numbers is free, each subsequent change of number – 5 UAH.
Dial the combination *600*71* <country code> <operator code> <phone number>#
Example: *600*71*48532ХХХХХХ#, where:
48532 – operator code T-Mobile/Heyah (Poland);
ХХХХХХ – phone number.
Please note that the phone number with the operator and country code –it is 11 digits.
2. How to check which numbers are on the list?
3. How to delete number?
Deleting a number is free.
Dial the combination *600*72*<country code> <operator code> <phone number>, what needs to be removed#
Operator codes of Poland (T-Mobile/Heyah):
+48532, +48538, +48539, +48600, +48602, +48604, +48606, +48608, +48660, +48662, +48664, + 486660-486665, + 486667-486669, +48668, +48692, +48694, +48696, +48698, +487272, +487273, + 487281-487289, + 487298-487299, +48734, +48735, + 487361-487366, +487391, +48784, +48787, +48788, + 487951-487955, +48880, +488810, +488818, +488819, +48882, +488833, +488838, + 488841, +488842, +48886, +48888, +48889
Depending on your tariff plan, the basic conditions of Vodafone Ukraine tariffs will apply to calls to other destinations.
Tariffs apply on the territory of Ukraine, where there is network coverage of the operator.
The price of calls is stated for the first second of every minute of call.
Tariffs are stated in UAH including VAT and Pension fund tax in amount of 7.5% of service cost without VAT as of 29.08.2017.
Minimum validity of tariff is 30 days starting from its subscription.  
Detailed information on tariffs, promotions, cost and terms of service can be obtained by phone:
111 — free from Vodafone Ukraine mobile in Ukraine;
0800 400 111 — for subscribers of other operators of Ukraine (free of charge from any number in Ukraine).
PJSC "VF Ukraine", 01601, Kyiv, street Leipzigska, 15, in the register of operators, telecommunications providers №1.