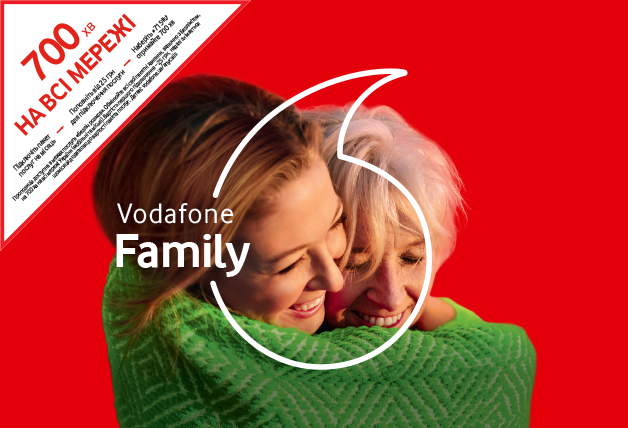 Vodafone Family
Plan main features
500 MB internet

and unlimited messeging

«YouTube Uninterrupted»

promo offer *313#

Unlimited

intranet calls

150 min

for call within Ukraine

30 min

for calls abroad
This bundle costs 45 UAH/month Close tooltip Within the special offer
Close tooltip

Estimated cost of the tariff per day. Calculation method
1,5 UAH/day
We have news for you. From 18.09 the Vodafone Family tariff is closed. Detail:
Cost of service packages for a month
45 UAH

Close tooltip

Within the special offer
4G/3G internet

Close tooltip

Gigabytes of internet within the tariff are available for use in 2G, 3G and 4G-networks if there is technical access and coverage
500 MB
Messages in Viber, WhatsApp, Skype, Telegram (text and pictures)
Unlimited
«YouTube Uninterrupted» promo offer
YouTube Premium
4 MONTH FOR FREE
+ Video PASS service
*313#
Calls within Vodafone Ukraine network
Unlimited
Calls to other networks
150 min
Calls abroad to Poland, Italy, Russia, Germany, USA and Canada

Close tooltip

To Italy and Russia only to fix numbers and to Wind Italy and MTS Russia operators
30 min
Calls abroad to 48 countries
10 min for 10 UAH/day

Close tooltip

After using 10 packages are available per day cost of calls is 3 UAH/min
(within 10 packs per day)
to check *101*5#
Unlimited calls to Poland to 1 number
Unlimited calls to Russia to 1 number
3 UAH in day of usage «Unlim abroad»
SMS to all mobile networks in Ukraine
50 units for 1,50 UAH/on the day of use
SMS abroad
2 UAH/units
Special conditions apply on the territory of Rivne, Vinnytsya, Cherkasy, Zhytomyr, Khmelnytskyi, Ternopil, Lviv regions, in exceptional districts of Dnipropetrovsk region (Kryvyi Rih, Kryvyi Rih, Sofyyvskyi, Apostolyvskyi, Shyrokivskyi regions), in exceptional districts of Odesa region (Artsyz, Bilhorod-Dnistrovskyi, Bolgrad, Izmail, Kiliya, Reni, Sarata, Tarutyne, Tatarbunary districts), in exceptional districts of Poltava region (Kremenchuk, Kremenchug district and Gorishni Plavni), in exceptional districts of Kirovograd region (Svitlovodskyi district) and in exceptional districts of Donetsk region (Mariupol, Mariupol, Mangush, Nikolsky districts) 15.03.2019 on a permanent basis.
Tariffication outside the territoryof special conditions
You have the ability to disable the internet package and messaging in the Vodafone Family tariff. After disconnection, the fee for the next service package for the month will be reduced by 5 UAH and will amount to 40 UAH/month. Disable – *250*10#
If you used the service package earlier than a month
«Minutes Exchange» and «Many talks» services
If the tariff for month is not paid, conditions apply:
List of 48 countries for calls abroad
Basic tariff terms, in case of no first top up
Мandatory legal information