Exchange of the SIM-card
You need a card that supports 4G (LTE)?

Lost your SIM-card?

You need the USIM-card of another format (micro-mini-nano)?
Just do a few simple steps and use your number!
Simple SIM-card exchange without an appeal to the store
Step 1
Buy the starter pack for the SIM-card's restoration
Step 2
Call the contact center and provide the necessary information
Step 3
Use your number, tariff and connected services below
Step 1
Buy the starter pack for the SIM-card's restoration and exchange at the convenient location.
The SIM card replacement pack can be purchased at most points with regular starter pack. Contact the seller.
You may order the USIM replacement pack with a convenient delivery from our online store.
Pack price is 25 UAH.
Step 2
Make a call to one of the following numbers:
222 from any Vodafone Ukraine number);
0800 400 222 (from any number of mobile or fixed-line networks in Ukraine).
Calls on the territory of Ukraine are free.
To change the format of the SIM-card , make a call from your number (without giving the information, listed below).
Viber or Telegram
Facebook Messenger
111 (the call is free from Vodafone mobile in Ukraine);
0800 400 111 (the call is free from any number in Ukraine)
If the SIM-card was lost or damaged , tell the number, that has to be restored and give an answer on one of the following questions to the operator:
PUK-code (8 digits, that are specified on the pervious SIM-card's plastic holder).
Two numbers , to which you called most often or sent SMS for the last 30 days (except the short numbers and numbers, that start from 0 800/900…).
Step 3
After that, give the operator the serial number of your new USIM-card (12 digits indicated on the new starter pack or on the plastic holder under the barcode) and put it in the phone for successful use of your Vodafone Ukraine number.
Step 4
Receive an additional 4GB as a gift:
Two days after replacing the SIM-card, activate 4 GB in the «Offers for you» section.
The gift's validity term – 30 days from the moment of its connection. The 4 GB gift is available after the first USIM-card's exchange or restoration. Details and official rules of the action additional 4GB.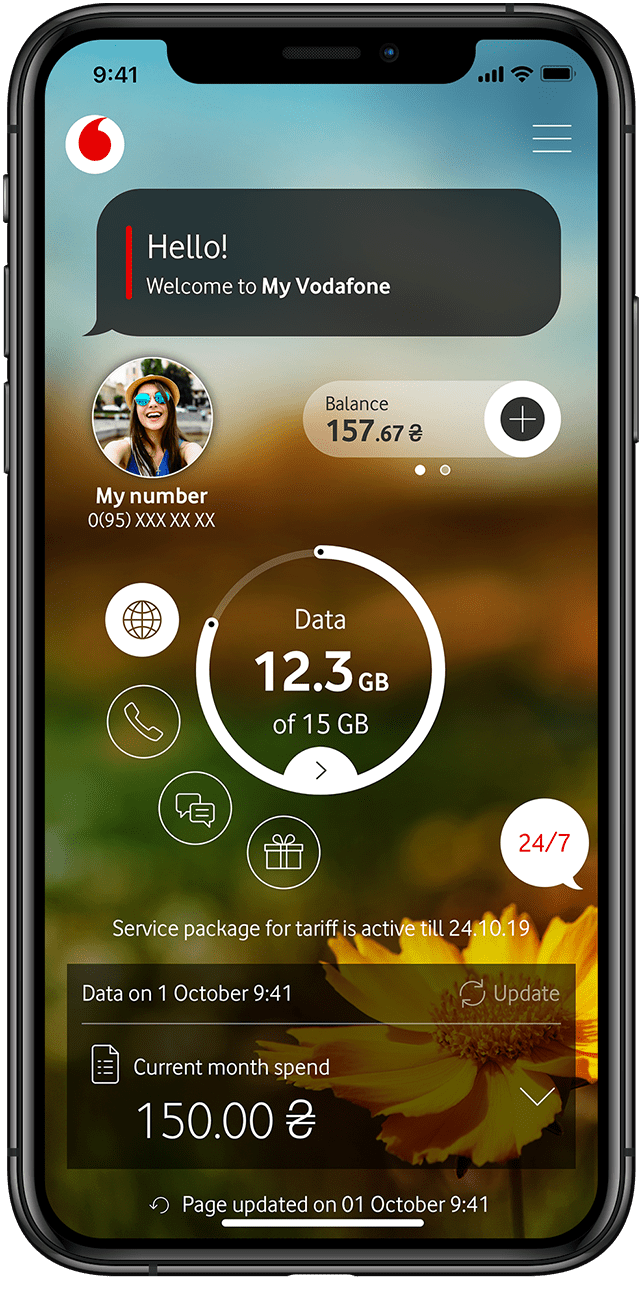 Download
My Vodafone
Choose and change rates
Manage online services
Check the remainder of the package GB, minutes SMS
View expense details
Top up account without commission
Exchange bonuses
Important:
the status of current account, tariff plan and all connected services on the moment of SIM-card's exchange will be replaced to the new USIM-card;
contacts in the phonebook that were stored on the old SIM-card will not be restored;
the exchange of the SIM-card without an appeal to the Vodafone Ukraine stores is available only for Prepayment clients.
Exchange of the SIM-card in Vodafone store