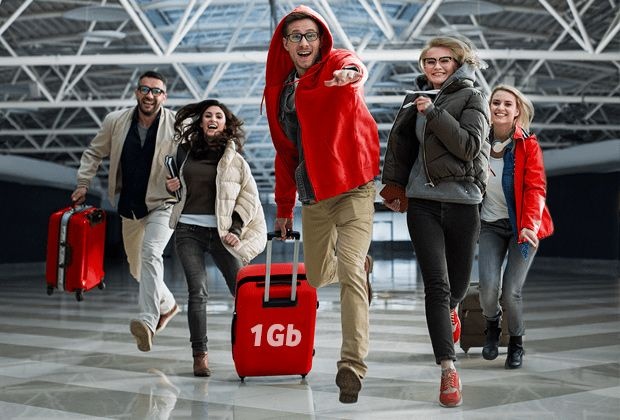 Service will operate in the following 70 countries in any network:
Albania
Argentina
Armenia
Australia
Austria
Azerbaijan
Bahrain
Belarus
Belgium
Bosnia Herzegovina
Brazil
Bulgaria
Canada
China
Colombia
Croatia
Cyprus
Czech Republic
Denmark
Dominican Republic
Egypt
Estonia
Finland
France
Georgia
Germany
Gibraltar
Greece
Hungary
Iceland
Indonesia
Ireland
Israel
Italy
Japan
Kazakhstan
Latvia
Liechtenstein
Lithuania
Luxembourg
Malaysia
Malta
Mexico
Moldova
Montenegro
Netherlands
Norway
Oman
Palestine
Poland
Portugal
Romania
Russia
Saudi Arabia
Serbia
Singapore
Slovak Republic
Slovenia
South Africa
South Korea
Spain
Sri Lanka
Sweden
Switzerland
Thailand
Tunisia
Turkey
United Arab Emirates
United Kingdom
USA
«GigaRoaming» service is available in all Vodafone tariffs.
After using 1 GB of the «GigaRoaming» service, the speed of mobile internet in roaming will be limited to 8 kbit/s without charging. Further, you can activate the «GigaRoaming» service again (*600*4#) or deactivate (*600*40#) and use the mobile internet in roaming at basic rates.
Additional information on «GigaRoaming» service:
At the same time with activations «GigaRoaming» service you can activate «Roaming like home» service (the first priority will be to use the «Roaming like home» service), «Roaming is available» service (the first priority will be to use the «Roaming is available» service) or «Communications week» service.
To subscribe «GigaRoaming» service you need to turn off «GigaRoaming Max» service.
If you switch to another tariff «GigaRoaming» service will remain.
When registering in other countries will act basic tariffs in roaming.
Policy of fair use of roaming services
+380 500 400 111 — support number of subscribers (free for mobile Vodafone Ukraine in roaming).
The speed of internet will be 8 Kbit/s after using 1GB above the package volumes with «GigaRoaming» service activated or after using 2000MB per day with the deactivated «GigaRoaming» service in 63 world's countries. The provision of communication services in roaming is available on the networks of roaming partners, therefore, with the increased load on the network, the internet speed may be limited. The subscriber is notified on the usage of the packaged MB via SMS. The interval of calculating every internet session within internet service in roaming – 100Kb. Every incomplete 100Kb are calculated as complete.
The tariffs are specified in UAH including VAT and Pension Fund tax which is 7,5% of the services cost without VAT as of 07.05.2021.
The minimum tariff validity period is 7 days from the date of its introduction.
For the detailed information on tariffs, promotions, prices and terms of service please call:
111 — free for Vodafone Ukraine in Ukraine;
0800 400 111 — for the subscribers of other Ukrainian networks (free from any number in Ukraine).
Kyiv, Leiptsyzka Street, 15, №1 in the Registry of telecom operators and providers.